Recording of Higdon's Double Percussion Concerto Now Available
About Duo Duel...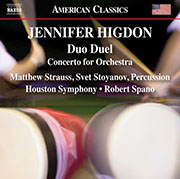 "...streaks of absolute wildness of marimba and vibes. By this time, the piece has turned into a manic scherzo racing all the way home."
San Francisco Classical Voice, Richard Ginell

This world premiere recording, featuring soloists Matthew Strauss and Svet Stoyanov, and the GRAMMY-winning Houston Symphony under Robert Spano, has been released.
STREAM / BUY: https://Naxos.lnk.to/8559913FA
Music for The Light That We Hear Now Available
The solo part/piano reduction set for Higdon's newest flute work is available now. Orders can be placed by going to the Works/Orchestral section.
NEW RELEASES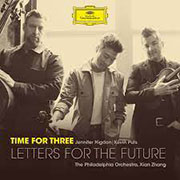 2023 GRAMMY WINNER!

Lawdon Press is pleased to announce this new recording of Concerto 4-3. Under the baton of Xian Zhang, Higdon partnered with the trio, Time for Three, and the Philadelphia Orchestra to make this dynamic recording. The CD is available on amazon.com and deutschegrammophon.com and on all streaming services.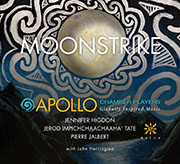 Higdon is honored to be a part of the sixth recording by the Apollo Chamber Players. It is available for streaming on Amazon Music and Apple Music.