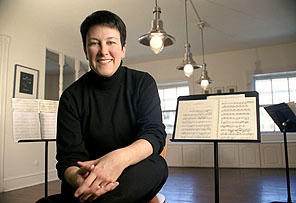 Pulitzer Prize winner Jennifer Higdon maintains a full schedule of commissions and her music is known for its technical skill and audience appeal.
"There's something very American in the sound of her music, and something I'm tempted to call joyful--not in terms of what is expressed...but in how it is expressed. She is a composer in love with composing." -The Baltimore Sun
ON A WIRE WITH EIGHTH BLACKBIRD AND THE PHILADELPHIA ORCHESTRA
October 19, 20 and 21, 2017

The Grammy-winning (and very exciting!) Eighth Blackbird will make their debut with The Philadelphia Orchestra, performing Higdon's On A Wire. Stephane Deneve will conduct these not-to-be-missed performances.
NEW RELEASES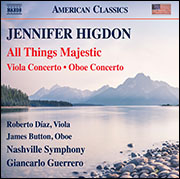 The Nashville Symphony Orchestra, under the baton of Giancarlo Guerrero, is releasing a new recording of three of Jennifer's works.  All Things Majestic vividly captures the breathtaking beauty of the American landscape, and her expressive concertos bring out the unique textures and sonorities of these frequently overlooked solo instruments.  BBC Music Magazine writes that "Higdon's Viola Concerto (2015) is striking in its playful, jazz-like rhythmic drive, carried off with great charisma by soloist Roberto Diaz, while the Oboe Concerto (2005) showcases the instrument's lyricism and mischief, with a fine performance from James Button".
 
This recording can be purchased through Amazon and iTunes. 

Naxos has also released the newest video interview with Jennifer live, if you'd like to see what she has to say about contemporary music!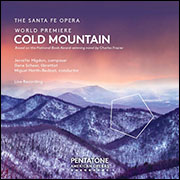 The world premiere recording of Higdon's first opera, Cold Mountain is now available.  This live recording with the Santa Fe Opera (Miguel Harth-Bedoya, conducting) features performances by Isabel Leonard, Nathan Gunn, Emily Fons, Jay Hunter-Morris, Kevin Burdette, and Roger Honeywell. The recording, which garnered 2 Grammy nominations, is available on www.pentatonemusic.com and www.amazon.com