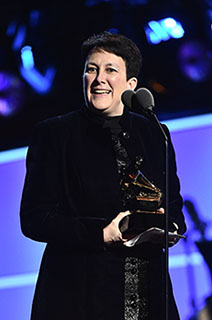 Lawdon Press is happy to announce that Higdon has won her second Grammy! Higdon's Viola Concerto won for Best Contemporary Classical Composition. This recording was on a CD of her music titled Higdon: All Things Majestic, Viola Concerto, and Oboe Concerto, that also won the 2018 Grammy for Best Classical Compendium.
Photo: Getty Images
VIOLIN CONCERTO AUSTRALIAN PREMIERE, July 18, 20, 21, 2018
Under the baton of Giancarlo Guerrero, the Sydney Symphony Orchestra will perform Higdon's Violin Concerto. Benjamin Beilman will serve as soloist in the work that won Higdon the Pulitzer Prize in 2010.
NEW RELEASES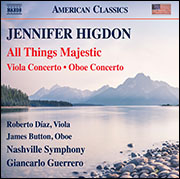 The Nashville Symphony Orchestra, under the baton of Giancarlo Guerrero, has released a recording of three of Higdon's works. All Things Majestic vividly captures the breathtaking beauty of the American landscape, and her expressive concertos bring out the unique textures and sonorities of these frequently overlooked solo instruments. BBC Music Magazine writes that "Higdon's Viola Concerto (2015) is striking in its playful, jazz-like rhythmic drive, carried off with great charisma by soloist Roberto Diaz, while the Oboe Concerto (2005) showcases the instrument's lyricism and mischief, with a fine performance from James Button." This recording can be purchased through Amazon and iTunes.

Naxos has also released the newest video interview with Jennifer live, if you'd like to see what she has to say about contemporary music!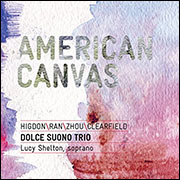 This recording presents flute, cello, and piano trio repertoire featuring the premiere recordings of four works by Higdon, Shulamit Ran, Andrea Clearfield, and Zhou Tian. These works embrace a variety of sources from visual art, literature, and nature. Dolce Suono Trio includes flutist Mimi Stillman, cellist Nathan Vickery, and pianist Charles Ambramovic. This recording is available from Amazon.