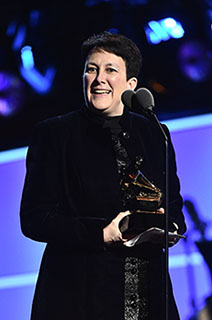 Lawdon Press is happy to announce that a new production of Cold Mountain will be premiered at the Academy of the West. This exciting new project will be directed by James Darrah. Performances will occur on August 2 & 4, and Higdon will be present.
"...Higdon's most striking achievement doesn't fit so easily into a biography, and that's how thoroughly her music has filtered into every stratum of classical music culture in the United States." Gramophone, March, 2017
Photo: Getty Images
Viola Concerto
April 10, 2019, Oslo, Norway
Under the baton of Miguel Harth-Bedoya, the Norwegian Radio Orchestra and Eivind Ringstad, soloist, will perform Higdon's Grammy-winning work.
NEW RELEASES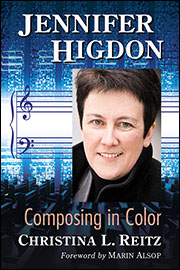 Christina L. Reitz is an associate professor of music at Western Carolina University. Her research on Jennifer Higdon has been published in the Grove Dictionary of American Music, the International Alliance for Women in Music Journal, and the North Carolina Literary Review.  Now Reitz examines five symphonic works and her first opera—with commentary by Higdon—with a focus on compositional history, musical characteristics, formal analysis and critical reception.  The book is currently on sale through mcfarlandbooks.com or amazon.com.