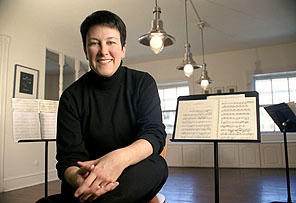 Pulitzer Prize winner Jennifer Higdon maintains a full schedule of commissions and her music is known for its technical skill and audience appeal.
"There's something very American in the sound of her music, and something I'm tempted to call joyful--not in terms of what is expressed...but in how it is expressed. She is a composer in love with composing." -The Baltimore Sun
OPERA NEWS
SANTA FE OPERA ADDS PERFORMANCE AND ANNOUNCES RECORDING

The Santa Fe Opera issued a press release on Thursday, July 16, announcing that, due to heavy demand, an additional performance has been added on August 24. "The music world and our own community are full of excitement for our world premiere, which has resulted in four of the five planned performances of Cold Mountain selling out weeks before opening," said MacKay. "We are happy to be able to offer more of our patrons a chance to see the first opera by this Pulitzer Prize–winning composer." Mr. MacKay also announced that performances of Cold Mountain will be recorded live for a future commercial release on PENTATONE, a Dutch classical music label specializing in high-end, multichannel surround-sound recordings.
NEW RELEASES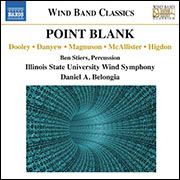 Higdon is happy to be a part of this new recording by the Illinois State University Wind Symphony, Daniel Belongia, conducting.  Higdon's Percussion Concerto is performed by percussionist, Ben Stiers.  The orchestra version of this work won a Grammy for Higdon in 2010.  This recording is now available through amazon.com and naxos.com.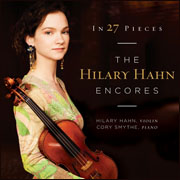 This CD features the world premiere recordings of 27 encores that Hilary Hahn commissioned.  Having written a concerto for Hahn, Higdon was delighted to be included in this exciting project performed by Hahn and Cory Smythe, piano.  Just released on November 11, 2013, this recording has already shot to #3 in classical music sales on amazon.com.